Welcome to the web-site of TAIPIT industrial group's furniture branch. Currently, we are manufacturer and supplier of three furniture brands CHAIRMAN (office chairs and sitting furniture), SKYLAND (cabinet furniture) and ALVALINE (kitchen furniture).
Information for potential dealers and buyers
CHAIRMAN brand history
1999 — furniture branch was launched — some stock formed and distribution of Southeast Asian office chairs started.
2001 — dealers network covers all the regions of Russia.
2003 — first CHAIRMAN chairs manufactured.
2005 — our manufacturing facilities work at full capacity — 50 000 chairs per year.
2008 — a factory in Kaliningrad with manufacturing capacity of 250 000 chairs per year purchased.
2010 — a factory in Losino-Petrovsky (Moscow region) with manufacturing capacity of over 450 000 chairs per year purchased; distribution in Belarus and Kazakhstan launched.
2012 — factories renovated, manufacturing capacity grows; product range extends to over 120 models.
2013 — modern testing laboratory launched.
2014 — new quality standards adopted; distribution in the Baltic States launched.
2015 — ambitious import substitution program launched; manufacturing capacity extends further.
Overall sales — over 1 000 000 product units per year
Distribution geography — Russia (over 100 cities and towns), Belarus, Kazakhstan, the Baltic Statesа
Dealers network — over 1 100 established dealers
Regional branches — 7 offices and warehouses in Russia, Belarus and Estonia
Sales staff — over 60 skilled professionals
Regional warehouses — total storage space over 28 000 m2
Permanently in stock — over 120 000 product units
Vehicle fleet — 35 vehicles, total capacity over 550 000 kg
Office chairs and sitting furniture factory working area — over 28 000 m2
CHAIRMAN Office chairs and sitting furniture manufacture and distribution volume — over 60 000 units per month
CHAIRMAN furniture range — over 130 models
Cabinet furniture factory working area — over 11 000 m2
SKYLAND manufacture volume — over 40 000 units per month
SKYLAND furniture range — over 5 000 articles within 14 collections
CHAIRMAN office chairs and sitting furniture factory
The factory is located in Losino-Petrovsky (Moscow region, Russia). In our field, it's one of the largest manufacturing facilities in the Eastern Europe.

With manufacturing capacity of over 60 000 product units per month, it covers about 20% of Russia's office chairs market volume.

The keystone of our brand's philosophy is QUALITY. We buy materials and components from the biggest and most trustworthy suppliers. If possible, we try to develop in-house production of materials and parts.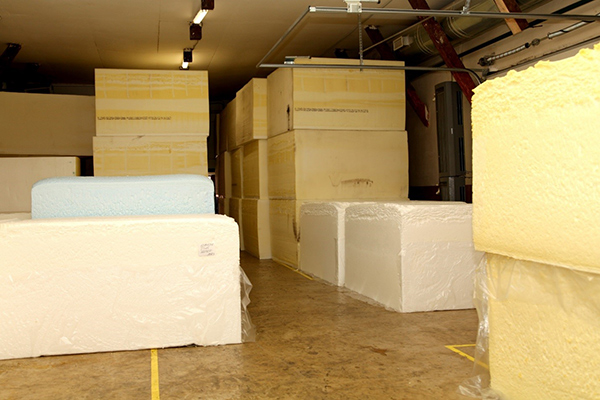 PU-foam manufacturing process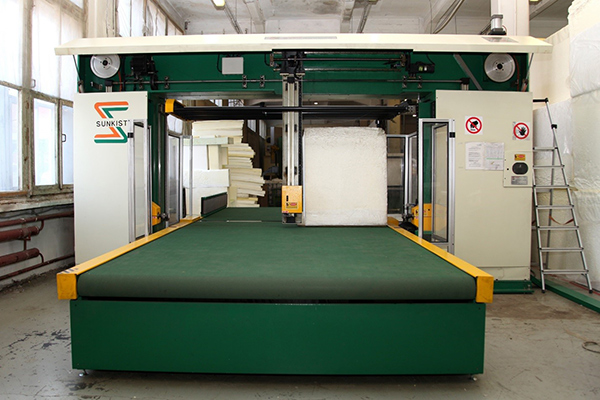 PU-foam cutting process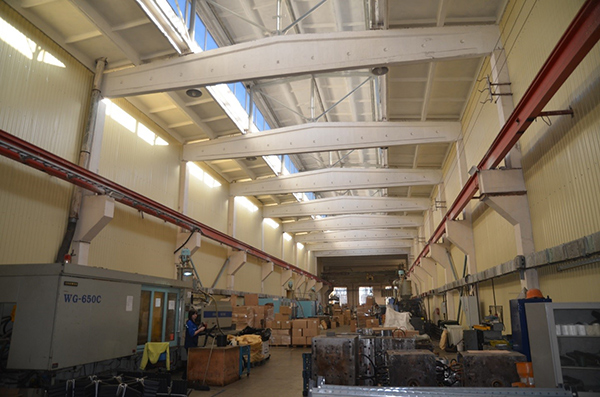 Plastic elements production facility
Another important element of our QUALITY confidence is an assembly-lined manufacturing logistic: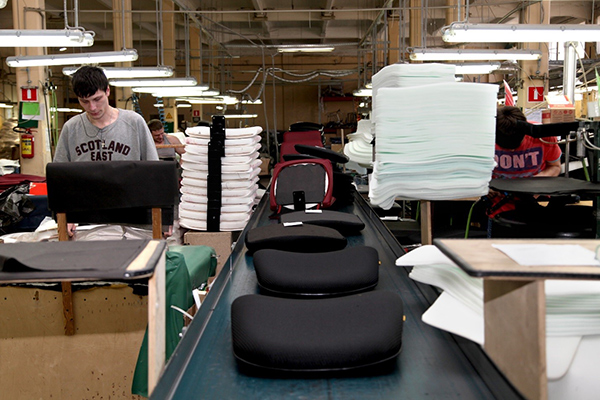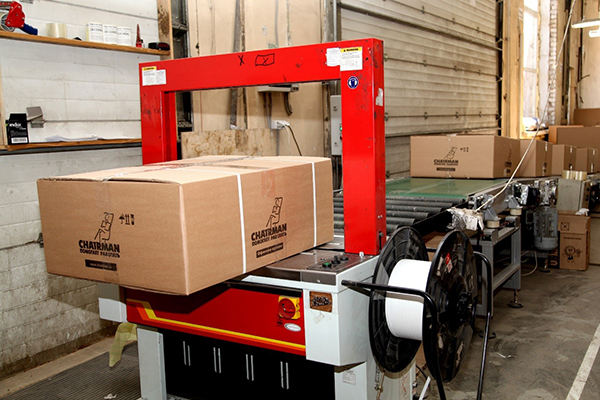 Assembly — line is a powerful instrument to reduce reject level. It can not be efficient at a small "hole in a wall". For a big manufacturing complex, though, it's absolutely necessary.
But of course nothing can give a 100% QUALITY guarantee. Nothing, except…
CHAIRMAN testing laboratory
Our testing laboratory is an independent subdivision, which works 24 hours a day, 7 days a week to make our QUALITY 100% guaranteed. We've established and equipped our testing laboratory with the most modern and close control equipment to test… everything. Upholstery, fillers, carcasses, fittings. And last, but not least — the end products.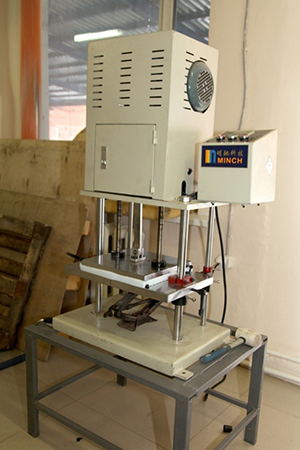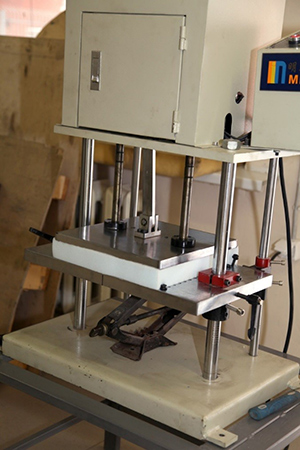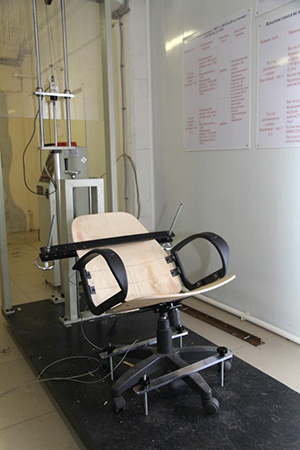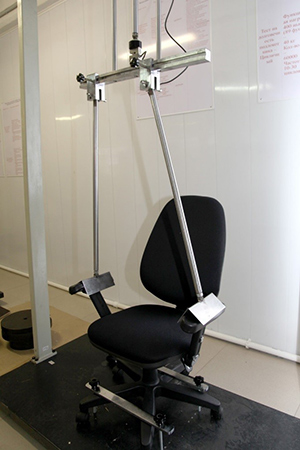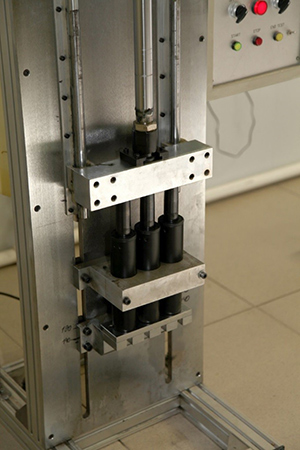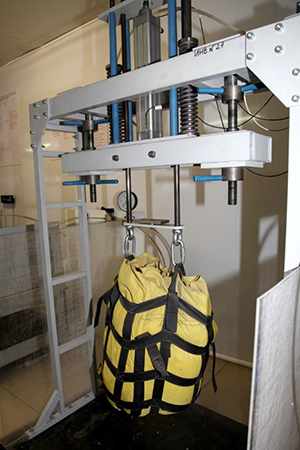 That gives us a 100% QUALITY confidence. For the end users of CHAIRMAN furniture it means that the office chairs and sitting furniture they buy shall look good, shall be comfortable, reliable and trustworthy. In a word, our testing laboratory gives us confidence, that all the CHAIRMAN products are built to last.
Information for potential dealers and buyers
If you plan to purchase CHAIRMAN office chairs and/or sitting furniture for your home or office — you can choose a supplier from our list of over 1 100 trading partners here. If your ambition is to become our trading partner — click here to go to our consolidated TAIPIT furniture branch website to fill a brief and simple registration form.
Whatever your plans are, we hope that you've found what you were looking for in CHAIRMAN furniture. Since 1999, we're doing our best for it, and according to feedback we're getting — we're on a right way.

If you have any questions or comments regarding CHAIRMAN products or services, please do not hesitate to get in touch with us via
"Contact us"
form.
Chairman is a registered trademark Ltd. «Taipit-MK»
Copyright © LLC «Taipit-MK»