RELIABILITY CHECK part 2
Recently, we wrote about a long-lasting test several gas-lifts have undergone in our testing laboratory last autumn. The idea was to take 3 random gas-lifts and to put it at our testing stand for 2 weeks, 15 compression cycles per minute, 900 cycles per hour, 21 600 cycles per day. Totally it made 300 000 cycles under 80 kg pressure. And — the gas-lifts have passed the test, which was actually twice harder than the standard requires.
Is 300 000 cycles much? Well, let's make some simple calculations. In average, a person sits down/stands up from a chair 15-20 times a day. OK, let it be a very mobile person and 30 sitdowns/standups a day. Let this person be a workaholic staying in his office 250 days a year, never taking a vacation or even a day off. 300 000 cycles make then… 40 years of work! Would you like to use the same chair for 40 years? We doubt it. So you'll sooner get tired of your chair than its gas-lift would get broken.
Surely, not all the elements are that solid. An average warranty period of 1 year (2 years at best, as CHAIRMAN chairs have) is not just a random period. So we have decided that all the significant elements of our chairs have to udergo a test. Good that we have a testing laboratory with 10 testing stands, working under ANSI/BIFMA X5.1-2011 and DIN 4550 standards. So – as many various tests as possible just to make sure that CHAIRMAN chairs are rock solid!
So our next test is on a seatback. Like with gas-lifts, it is a cyclic test, in other words, a durability test.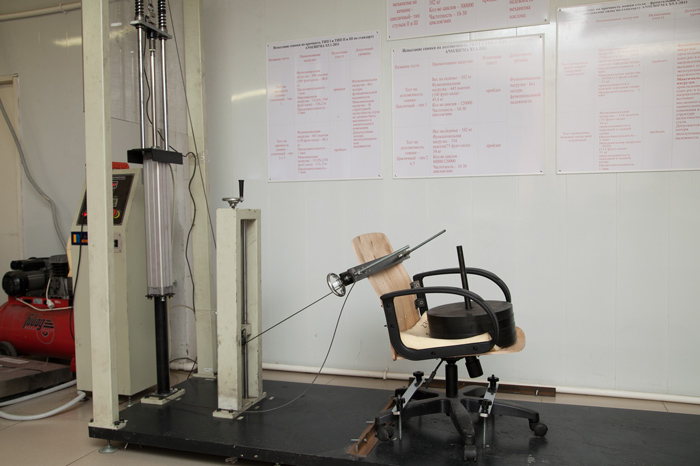 The object of a BIFMA standard test is to put 45.4 kg pressure on a seatback. For 120 000 times in a row. If the seatback is still functional and has not lost its configuration – the test is passed.
We have decided that 120 000 times – a standard requirement – is not enough and raised the bet up to 180 000 cycles. As usual, we have picked a random semi-finished chair from our line and put it under the pressure.
50 cycles per minute. 3000 cycles per hour. 2.5 days of non-stop dynamic stress. That's how it looked: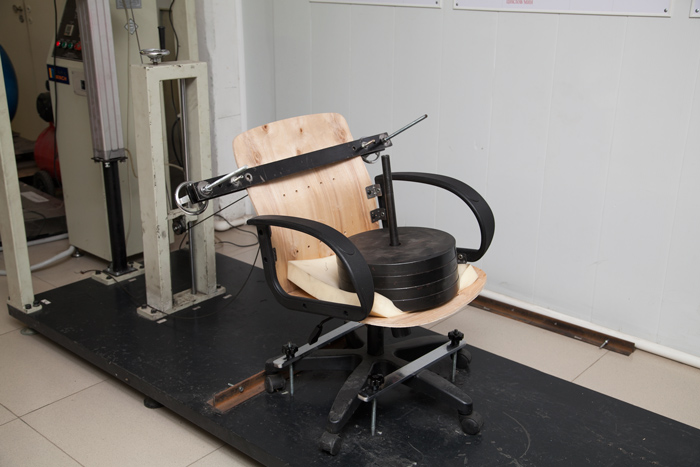 Well, the seatback HAS survived.
Let's be frank – it was not in its best shape after the test. Of course we couldn't just take it back to our production line. But if it was a real chair – it would still be fully functional. You still could use it daily and see no difference with a new one.
Let's make some calculations now. How many times a day do we lean on a seatback? Let it be 60 times. The pressure we put on it is usually lighter than 45 kg, but let it be 45 kg. 250 workdays a year if we take no vacations. It makes 15 000 cycles. Our test lasted for 180 000 cycles, that makes… 12 years of instant use? Same chair for 12 years??? Does anybody believe it possible?
OK, the object of this test was not to impress you (and ourselves) with figures. We just needed to make sure that our chairs are as reliable as we claim they are. We really do care about the quality of our products, and the tests like this one are of tremendous help for us here.
Surely, it was not the last of the series of tests. Stay tuned!
Chairman is a registered trademark Ltd. «Taipit-MK»
Copyright © LLC «Taipit-MK»